Watching the Tour this week I think the the British team Sky has made a huge mistake with their team. The goal of the team was to alway be a mostly British team that won the Tour de France with a British rider within 5 years. They found that rider in Bradley Wiggins, who at the time of the team's creation was contracted with Garmin. Bradley is an amazing rider and I think will be a Tour winner at some point. I don't think this is the year though. The mistake I think they made was to have too many big goals, too many amazing riders, and no one with the balls to say "we can't do it all". There was a time when a team could dominate the Tour and win multiple jerseys. I think that time has past. There are so many good teams, and each one has one goal when they come. Some are to win the GC, some to win the green jersey, some want to win stages, and others just want to get into break aways every day. Each one is dedicated to one goal though, and all nine riders work towards that goal. Sky started the year saying they were going to race for both the Yellow and Green jerseys. These are the most prestiges jersey in the race, so there are multipel teams going for the same thing. The catch is the entire team is going for one or the other. Then as the race neared, Sky's world champion Mark Cavendish and "best sprinter in the world" said he no longer was going to target the green jersey. A jersey he had won the year before after chasing it for at least 3 years. Why would he do that? I believe that his directors realized the same thing I was saying, and they could only win one jersey. So Cav was going to be hunting stage wins, and have to do it on his own. WHAAAA!???
So now a team, who I would be large amounts of money, had promised Cav a go at the green jersey again. Was not going to allow him to do that, and if he wanted to win stages he was going to have to do it without a lead-out train. Basically they just spit in the eye of the World Champion. This is all my opinion and speculation, but this is what I think happened. Cav only came to Sky because his former team, the best team in the world, HTC Highroad/Columbia, folded last year when it's sponsors pulled out just because. While at HTC he was given all the tools needed to do nothing short of dominate the pro ranks winning no less than 20 stages in the Tour de France in the last four years. He road the greatest bike in the world, a Specialized McLaren Venge, had a lead-out train second to non, and a management team that wasn't afraid to lay it all on the line. The great thing about Cav as well, was if you took him to the line he would win 99 time out of 100. I am sure his teammates were always willing to turn themselves inside out to get him there.
So now team Sky has gone to the biggest, most important race of the year with 9 riders, 8 of which are riding to get Bradley to the race win, and Cav is on his own. Already they are at a disadvantage. Cav cannot climb well enough to help Brad in the mountains. I don't think I have ever seen Cav do much work on the front to pull a break back, I am sure he can but I have just never seen him.
Now Sky has lost a rider already due to injury, they have allowed Cav to get caught up in big crashes because he has to fight his way through the bunch, and I am guessing Cav is wondering what the hell he is doing with Sky if they don't give a shit enough to give the best sprinter in the world and world champ a lead-out.
Today Sky did try and take Cav to the line but they did not have the fire power to get him all the way and were swamped. They were built to climb, not power on the front for 25 kilometers. I know these guys are all super strong but when they are going up against a team like Loto who was built to take Greipel to the line and maybe into the green jersey, they have no chance.
I think Sky didn't think things through when they went after Cav, and maybe Cav was a little nieve to think a team could do both. But I don't see him being there for another year if things don't look like they are going to change. To me it has always seemed strange. I know that is sort of a strange thing to say when I don't personally know any of these people. But sometimes things just don't seem right. And even though Cav is a Brit, and grew up with most of these guys, he just doesn't seem to fit. What do I know though?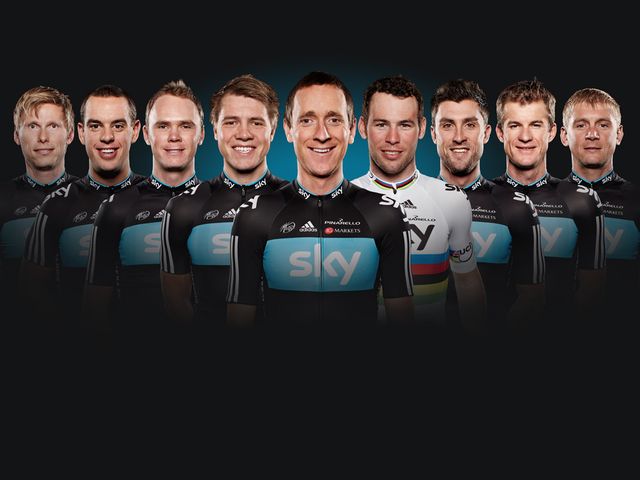 Dream team, or too many cooks?