OOO yeah I did, and to top that, I did it to myself! I never worry about crashing in road races. One, there are never enough people in road races except maybe Hillsboro Roubaix, and two most the courses are pretty straight. Well the team headed down to Sainte Genevieve for the Missouri state road race. It is held on a great course with varying terrain and a few very hard climbs. Not to mention it is always hot and the wind can be a huge pain.
My history with this race is not very good. Pretty much every other year I suck really bad. So this year was one of those years. We had a large team and I thought it was our best opportunity to win this race. The race started very hard and fast for my liking with guys trying hard to get a break going. We had 4 guys covering those attempts, and when one stuck we had a man in it. Goal number one achieved. When a hard effort or it could have been an attack (I was sucking wind at the back at this point so it was hard to see) when up the first big climb on the course another one of our riders struck out in an attempt to link up with the lead group. He was still chasing by the time we hit the second hill on the course. This was when my race ended, or at least I would not see the pack again. From what I was told our no man's land rider never made it. Our team therefore just sat on the front riding tempo as no one else would. Then our plan sort of fell apart as our rider from the break was dropped. That meant the team had to start drivin the pace. It was a long hard effort and they were able to pull back everyone except one rider with what I was told about 6 or so miles to go.
Once the team caught most of the break we started losing more riders from exhaustion. We were down to maybe 4 riders to chase the final rider with mostly downhill and tail wind remaining in the race. The guys put everything they had into brining back the lone rider but we came up 200 meters short. Our champ from last week Jason Murphy still was able to take a great 2nd place. But it was still less than we had all hoped for.
So back to my stupid self crashing. I had decided that even though I was dropped less than a third into the race I was going to finish. So I was going to need a feed. My amazing wife is always a big help in these races and always feeds us guys. She was there and ready for my when I finally appeared around bend. I dropped my bottles and reached for the bag she had out hanging. As soon as I grabbed it I was on the ground. I don't really know what happened but I think the bottles swung back and hit me and at the same time I was hit with a good cross wind from the other side. This just flipped me right on my side. I rolled over as Katie was running up to help me and we both said "what happened?" to each other. She got me back on my feet and off I went to finish another 35 mile loop on my own to think about how much I sucked today.
I'm not too sure about why I was so bad on Sunday. From looking at all my training data I look like I should be fine. But it is all still an art to reading this stuff. I might have been a little sick. I started having this problem with my molars the other day. If I shook my head or hit my feet too hard they would hurt. Someone told me today that happens to them when they have a sinus infection. I'm not stuffed up, but I have been having a lot of drainage again. So maybe it's that. I am going to take it easy for the next couple days and maybe just race once this weekend instead of racing the 3 days I had planned. I am planning on racing 8 days in a row starting next Friday. So I want to make sure I am ready for that.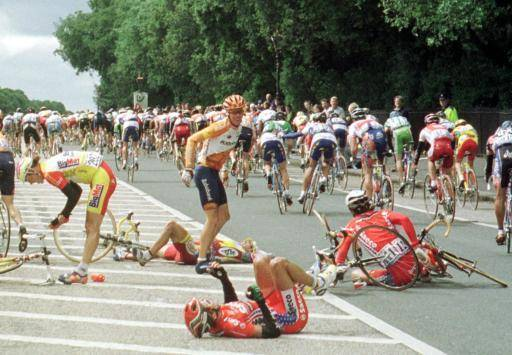 Feed zones can be dangerous places. At least I was on my own and didn't take anyone else out.